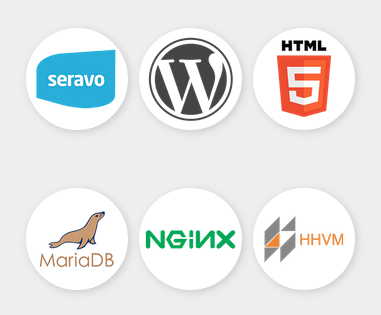 Seravo & WordPress
As a Linux and open source specialist company, Seravo provides services to many companies that run Linux in a web server. Not surprisingly, in many of these cases, the top-level software running on the server is of course, the world's most popular CMS, WordPress. We love it!
In the process of administering and developing a number of WordPress sites for quite some time now, we've discovered an arsenal of useful ways to optimise and automate WordPress, some of which we've published right here on our blog:
Throughout 2014, we've expanded our WordPress expertise and in the process, combined our practices into a full WordPress deployment platform. We're confident our solution is the next step forward from traditional WordPress hosting services.
In the spirit of openness in the WordPress community, we're happy to present the details of our deployment platform and which technologies lie under it in this series of blog posts.
1. LXC – A full OS for every WordPress installation
As one of the starting points to our platform, we wanted every individual WordPress installation to have its own full Linux environment. Instead of going the traditional route to virtualisation with VMs seen in most generic hosting solutions, we chose a more recent technology called Linux containers or LXC for short.
Each WordPress instance resides within its own, robust Linux container which provides a lightweight, flexible way to sandbox applications. By using LXC as a means of virtualisation, we've greatly reduced the overhead required for hosting websites in a clustered environment, thus increasing overall server performance.
As each WordPress container is also a completely standalone system in itself, it has been extremely easy to clone and transfer instances between hosts and even other WordPress platforms.
2. Nginx, HHVM and MariaDB for amazing performance
Instead of a more traditional LAMP (Linux, Apache, MySQL and PHP) environment. We utilised the newest in technologies for running WordPress.
Nginx, the fastest and most flexible HTTP server available
HHVM, a new and improved PHP engine developed and used by Facebook
MariaDB, a faster drop-in-replacement for MySQL server
The combination of these technologies enable us to offer WordPress performance unheard of when compared to LAMP environments. Additionally, all of these components are extremely configurable so that fine-tuning their performance could be a blog post all on its own.
3. Secure administration with TLS on SPDY/3.0
The drawbacks of building a HTTPS secured WordPress site have always been the inconvenience of acquiring an SSL certificate for each domain used and the increased server load from the additional computation required for secure protocols.
We didn't want our users to throw away security for convenience, so we went in search for a solution.
First, we enabled the use of an open networking protocol called SPDY, which is the basis for the upcoming HTTP/2 protocol. SPDY/3 is already supported by all major browsers and offers a significant increase in server side performance in comparison to standard HTTPS. This allows us to effortlessly serve large amounts of secure HTTPS traffic with almost no performance penalty.
To avoid having to acquire separate SSL certificates for all our separate WordPress installations, we developed HTTPS Domain Alias – a WordPress plugin that allows the use of a separate domain name for wp-admin. All our clients now get their own subdomain for WordPress administration at *.seravo.fi, which can be securely accessed over HTTPS for a secure WordPress admin panel.
Keep reading
Read part 2 of this series, in which we discuss the management aspects of multiple WordPress installations and useful tools for general WordPress development and security.
More information for Finnish-speaking readers available at wordpress-palvelu.fi.